Genentech BioOncology Pipeline at ASCO 2014 from Stimulant on Vimeo.
Every year, the rock stars of the cancer research and treatment world put on their shiniest shoes and assemble for the American Society of Clinical Oncology (ASCO) conference. In honor of the 50th anniversary of the ASCO conference, Genentech's BioOncology group asked Stimulant to design and develop a unique way to view and interact with their drug development pipeline. This pipeline represents all the molecules currently being researched and tested to treat various tumor types, each of which can be organized by tumors they may affect, the biological mechanism of their action, and the phase of testing they're currently in. 
In a sea of printed bar charts that focus on one area of study, Stimulant designed a way for conference attendees to focus in on their own area of interest while still maintaining a holistic look of the data in a larger context. As leaders in biotechnology, Genentech must also pave the way as how data is presented to the oncology community.
I had the pleasure to co-write and share our design process for this project. To read the full design process details along with more behind the scenes imagery, visit: http://stimulant.io/visualizing-biooncology/
_
Dana Smith testing size relationships on low-fi print mock up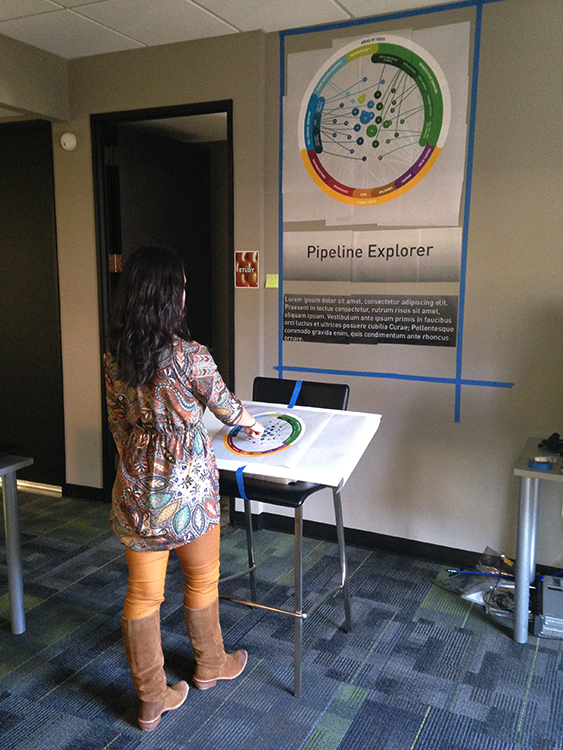 __
Client: Genentech
Agency: Stimulant
Stimulant credit list:
Design Director: Nathan Moody
Art Director: Jules Konig
Project Manager: Julie Yamato
Technical Director: Josh Santangelo
Technical lead: Ritesh Lala
Interaction Design: Dana Smith
Visual Design, Motion Design, & Post Production: Gregory Kaufman
Cinematographers: Stephan Winokur and Nathan Moody
Header image by Stephan Winokur