Situated in a 1.5 million square foot post office sorting facility, Day for Night orchestrated a two and a half day, all-you-can-handle festival full of music, live performances, and high quality digital art installations. In case you missed the first Day for Night post, check out my recap video here: www.gergwerk.com/day-for-night. In part II, lets explore some of the groundbreaking digital artists at Day for Night 2016. Although the line-up boosted a diverse collective of artists, I'm going to take a closer look at those that utilize technology in innovative ways.
ARCA: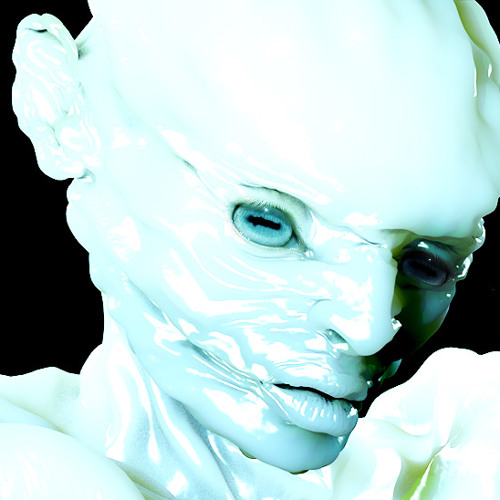 ARCA hypnotizes. Blending heavy electronic sounds with dark hip hop vibes, ARCA co-produced seven tracks from Björk's Vulnicura and contributed to Kanye's Yeezus. Paired with ARCA's tracks are astounding visuals by Jesse Kanda. Mirroring ARCA's sound, Kanda's visuals embrace the imperfect by presenting grotesque figures in order to question perception of beauty. The results are breathtaking.
Jesse Kanda:
Longtime friend and collaborator of ARCA, Kanda has created extraordinary visuals for FKA Twigs and Björk, as well as, exhibited at MoMA PS1 in 2013. A mix between Chris Cunningham and Phil Hale, Jesse's hyper-real figures swell, twist, dance, and flux along ARCA's unique sound.

Jesse's latest project is a VR music video for Björk. After hearing her newest album, Vulnicura, Jesse Kanda wanted to "create something as intimate as possible because Vulnicura, the album, the whole album, is really one of the most intimate things that I've ever heard… The mouth, being Björk's vessel from which she expresses her primary art, inspired me to try to do something with that." – source. Here is the resulting video:

Jesse and his team built a 4 foot replica of Björk's mouth and filmed inside it using 12 cameras to produce a 360º image. Meant to be viewed in VR, this larger-than-life immersive experience allows viewers to share an unsettling, intimate journey within Björk. See more behind the scenes photographs and read the full interview at Dazed Digital.

Björk Digital:
If you were lucky enough to secure a spot, Björk Digital exhibited a series of VR music videos for select ticket holders. This installation was a one of the major draws for the festival. People without tickets waited in a standby line for over 5 hours in hopes to get a chance to view the exhibit. I was unable to obtain a ticket, but luckily most of the experiences have been released online. Four VR videos in total, these 360º experiences range from listening to Björk sing while crawling in caves, (Black Lake), perform on a beach in Iceland (Stonemilker VR), travel from the depths of her throat (Mouth Mantra VR), and fly through the air while interacting with a procedurally generated Björk (Notget VR).
Here is a teaser for the fourth VR experience, Notget VR:

Notget was Analog's first attempt at VR. According to their team in an interview, they utilized their usual tools like Houdini, Maya, 3ds Max, vray, and Zbrush. Imaginarium recorded Björk's movements with motion-capture software. That data was used to re-build her performance in 3d to match her movements. Unlike the other Björk experiences which are video, Notget's content is drawn in real time, often having to hit 90 frames per second for a smooth experience. Below are some of the designs created by Analog.



Björk Performance (photo by Roger Ho):
Björk's live performance on Sunday polarized the audience as she curated a DJ set from behind a row of potted plants. The performance was less about being seen and more about experiencing the music. Regardless if you liked her set or not, there is no denying Björk defies industry standards. She consistently pushes technology to its limits and is a consistent (yet unpredictable) creative visionary when it comes to live performances. It is refreshing to hear the wide range of eccentric sounds included in a set. Here is a mix she DJed for a Tri-Angles record party:
At recent performances, Björk has been notably wearing 3d printed masks. Some of the more technologically elaborate masks were designed by The Mediated Matter Group. Their printed mask project, Rottlace, explores Material Ecology, the practice of "operating between machine and organism." According to the creators, "the series originates with a mask that emulates Björk's facial structure and concludes with a mask that reveals a new identity, independent of its origin. What originates as a form of portraiture culminates in reincarnation." Read an in-depth article about Rottlace over at Creators Project.



Aphex Twin (photo by Roger Ho):

"Unforgettable. Noise, jungle, acid, and a torrential downpour."  These words perfectly encapsulate the experience that went down during Aphex Twin's set. As if orchestrating a storm from behind his gear, Aphex's tracks conjured a cold front that hit in the middle of his set. The temperature dropped 20 degrees, freezing rain cut through blankets of green lasers like a static on a tv, and violent winds forced the crew to lower the entire speaker setup. The crowd couldn't get enough. As expected, someone recorded the entire performance from their phone. Not the best quality, but you can listen to Aphex Twin's set here (starts around 10:30):

Internet sleuths put together the tracklist from Aphex Twin's set before the weekend was over. Amongst all the madness, AFX released a mysterious 12″, specifically made for Day for Night. Only 500 were available. Someone uploaded the recordings from the special record within a day of its release:
Squarepusher:
It's no surprise, Squarepusher's performance was loud, fast, and highly energetic. His knack for combining epileptic visuals with pulsing audio is straight-up fun. In case you missed his Ufabulum tour, Squarepusher performed in front of a large LED wall while wearing a LED mask. I had the pleasure of experiencing this full performance at the Creators Project in San Francisco in 2012. Here is a clip from one of his tracks, Dark Steering:

LIMB & Eric Todd: OCTO (photo by Ismael Quintanilla)

Limb, local to Houston, performed a live set in the center of a compact room. OCTO utilized 8 full sized speakers placed in a circle around the perimeter of the room. This allowed the artists to sweep their energetic sound around the room at breakneck speed. While LIMB handled audio, Eric Todd managed audio reactive lights that hung above the audience. This performance was one of the highlights of the festival. If you're still in HTX, keep an eye out for more shows. See below for a close look of the light panels.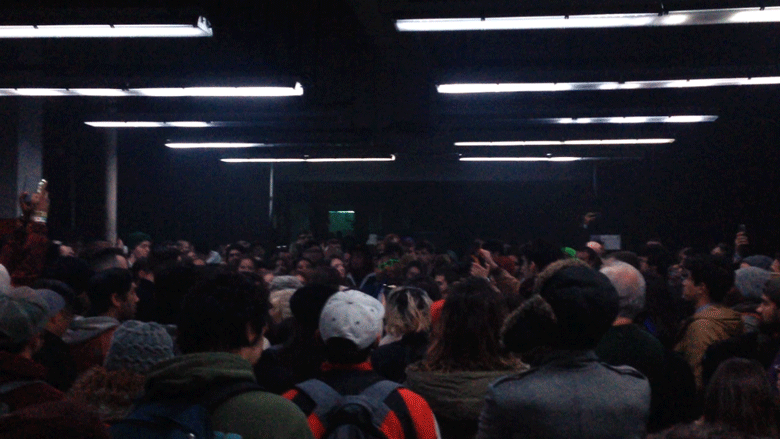 Shoplifter: Ghostbeast (Image by Poonehghana)

Shoplifter uses hair as a medium and projects mesmerizing patterns on top of it. Like grass swaying underwater, psychedelic patterns dance around static, fur-covered structures. This installation brought out smiles in everyone. It was reminiscent of hot summer days running around the playground, rolling in grass while the intensity of the Houston sun beams vibrant sunspots into the backs of my eyes.

AV&C and Houze: Phases
Phases is a new immersive environment that utilizes robotic mirror arrays to fold complex light patterns into an evolving dimensional kaleidoscope. Thin strips of mirror rotate in and out of sync while projectors blast streams of light onto the moving panels. The result is a beautiful array of light patterns that spiral around the room. Check below for video footage and process behind Phases.
Michael Fullman of VT Pro: Bardo
Bardo is "an exploration of presence and absence in a non descript location, vectors of light track you through darkness." One of the more popular installations, I felt as if I was experiencing digital divine intervention.

NONOTAK: Highline
"NONOTAK studio is the collaboration between the illustrator Noemi Schipfer and the architect/musician Takami Nakamoto. In early 2013, they start to work on light and sound installations, creating an ethereal, immersive and dreamlike environment meant to envelope the viewer, capitalizing on Takami Nakamoto's approach of space & sound, and Noemi Schipfer's experience in kinetic visual" – snippet from NONOTAK.com
Their new work, Highline, utilizes 12 mirrored panels (arranged in a V) that are dissected by long led bulbs. In the image below, you can see a detail of this ingenious setup.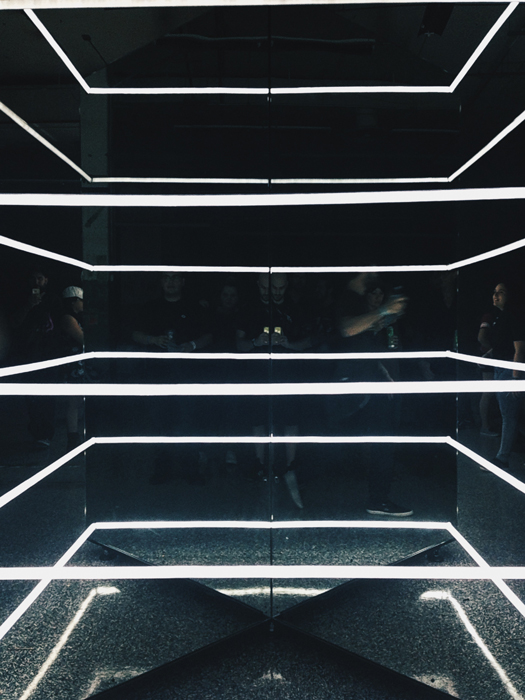 NONOTAK: Shiro
Additionally, NONOTAK had a live audiovisual performance called Shiro. Debut in Montreal's very own digital art festival, MUTEK, this show was an instant hit.

United Visual Artists (UVA): Musica Universalis
No lack of talent from this group. UVA creates memorable installations with light. Musica Universalis was described as "a spacial instrument that investigates the resonances from far away objects in our solar system. Musica Univeralis is a series of kinetic, physical sculptures and is inspired by Pythagoras' theory 'The Harmony of the Spheres'. The sculptures each contain a spherical form and a mechanism driving a rotating light source and speaker. Light is cast through the space creating interventions and interactions with the architecture. – source

Tundra: Outlines
Hailing from Russia, the four members of Tundra used over a mile of wiring to power over 400 lasers. No small feat, these thin, red lasers dissected the room into segments. According to the creators, "the name [Outlines] has a strong meaning in Russian representing the idea of stepping out of an initial grid and rising above the fundamentals by trespassing your imaginary boundaries." – source



Ezra Miller:
Ezra, WebGL rockstar, used TouchDesigner to create his latest work at Day for Night. Unlike his work that is normally viewed on computer screens, Stream was projected over an 80 foot wall. In an interview with Derivative, Ezra talks about his process creating the work: "The piece takes in a camera feed and performs an optical flow algorithm on the feed to detect the motion of objects in the feed. It uses this optical flow to control a few things. It goes into a shader feedback loop that creates a textural "painting," mixing together about 100 image textures which I've taken over the course of a few months living in NYC. This textural composition is fed into another shader feedback loop that performs a sort-of reaction diffusion system on it, whose direction and flow is controlled by the optical flow shader. The camera feed controls the color and flow, allowing you to "paint" with your body. Super excited for people to see how it looks!"
_
Whoa. Did you just read that all? Thank you for your attention. This is the end of a very fun, long journey to experience some amazing, innovative artists. Blind tickets for 2017 are already for sale. Standing for over 48 hours, sore knees, ringing ears, and little to no sleep—yeah I would do it all over again.