Blend Fest is an animation festival held biannually in Vancouver, BC. Over two days, guests hear talks by over a dozen award winning animators, directors, motion designers, and sound engineers. It is a place where animators and designers can come together under one roof to collaborate, improve skills, and geek out about keyframes. The festival was built out of love between four friends from Wine After Coffee – a vimeo channel that curates exceptional motion work. Lets get to it!
Here is festival opener, The Blend is Near, created by Oddfellows:

Whoa. Back up. Did you see that?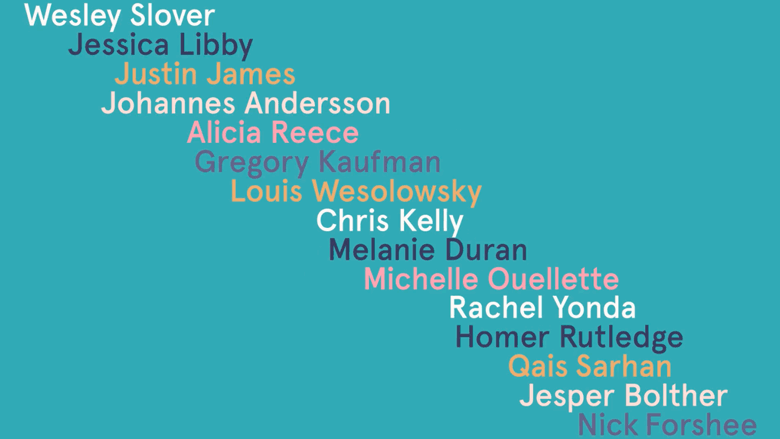 Blend welcomed us all by including each attendee's name in the title sequence. This gesture highlights how hospitable the festival was to us. From a branding standpoint, this was very powerful way to make a memorable experience.
Here are a few of my favorite speakers from the festival:
Justin Cone:
Justin was this year's Blend host. You may have seen his contributions around the web in the form of a website called Motionographer. This site is a juicy pitstop with healthy helpings of animation, design, and storytelling. Thanks for keeping the show running smoothly!
Thanks to all who did a 60-sec portrait of me at @BlendFest last weekend. What a fun surprise! 😆 pic.twitter.com/rlMpwc4Pij

— Justin Cone (@justincone) June 1, 2017
Bee Grandinetti:
Bee Grandinetti is an independent designer, animator, and illustrator from Brazil. In 2015 Universal Everything commissioned Bee to create a 30 second animation loop based on the word "Shrink". Her work was then projected mapped on the side of the Sydney Opera House. This living mural included work from 20 animation studios and animators. Check out Universal Everything's documentation to see all animations on the Opera House.

Bee was also the lead designer and animator for this years Blend Fest branding. Before the festival stared, Blend asked each guest to create their own geometric avatar when signing up. Upon arrival, they gifted each one of us our very own physical avatar as a totem. Every single shape was cut, sanded, and hand-painted. These delightful keepsakes allow us to take a part of Blend with us wherever we go.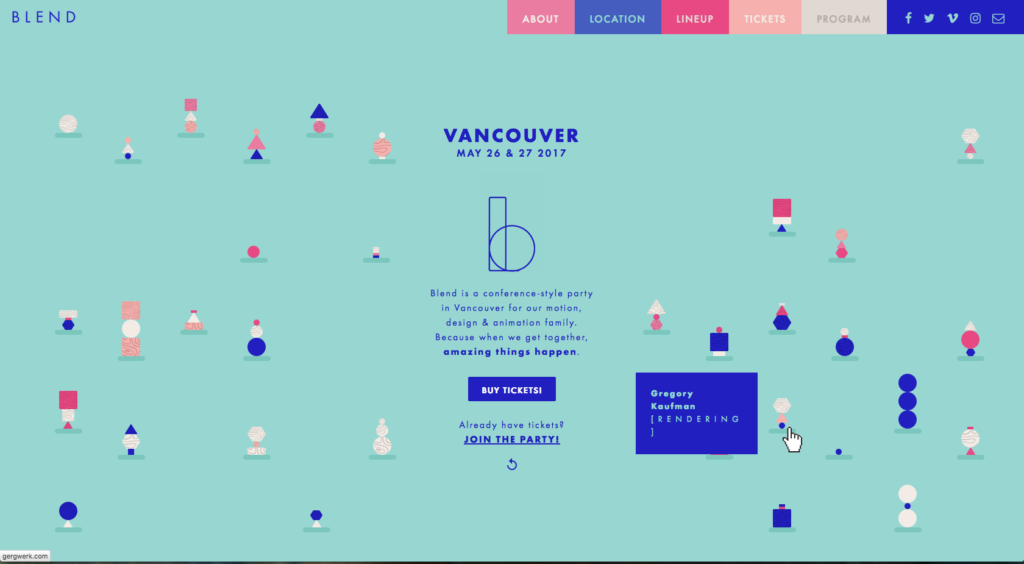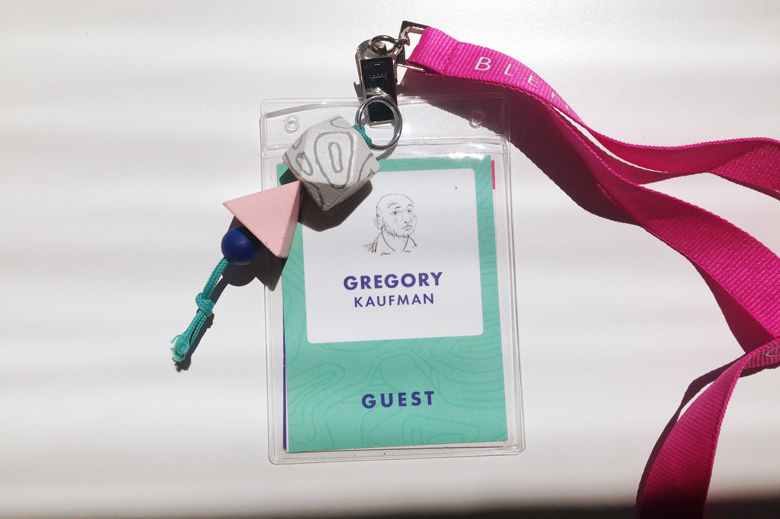 One thing I really love about Bee is her gratitude. To help give back to the community, she uses her well-deserved recognition to spotlight other women animators.

Oddfellows
Oddfellows is an award winning animation studio with offices in San Francisco and Portland. As a company created by animators, there were gaps in knowledge for running a business. They quickly realized this problem and reached out to other animation studios for advice. Luckily this tight knit community met them with warm welcomes. Competitors soon became allies in establishing best working practices for the community and began to help prop each other up. The big takeaway: ask for help if you need it. This is a community that loves to share and help others. Don't forget to share your knowledge and offer help in return.

Because Oddfellows is a relatively new company, they had to hustle to get noticed. In one example, the studio was moved by the actions AirBnb hosts have done for their guests. They took this opportunity to reach out to AirBnb to propose a new project as a way to show their support for this messaging. After impressing the AirBnB team, Oddfellows was hired for additional work.

Erica Gorochow
"Originality is a by-product of authenticity". Erica Gorochow, also known as Pep Rally, is an independent director, animator, and designer in Brooklyn. One wise piece of advice she shared with us was, "If you have an idea for a self-initiated project, cut it in half. Then cut it in half again. That is your project." This rule lead her to create VoteGif, the website with a simple task to let voters know registration deadline for each state. She then animated characters for each state and rendered them in very easy to share gifs.

Erica also directed Dear Europe, a highly acclaimed video about the then-upcoming European elections in hopes to educate voters on the lessons learned through Brexit and the US Election. This collaborative video included over 20 animators to help drive the message of unification.

John Black
Sound accounts for half the picture. John Black, aka CypherAudio, is a sound designer and original music creator. This award winning music artist has created work for Apple, Google, Nike, and dozens of others including Blend Fest. The beautiful CypherAudio brand identity was designed by Worship Studio.

Animade
Animade is a London based multidisciplinary studio that creates animation, games, and interactive sites. They talked about the importance of internal studio projects. It's a way for them to practice, experiment, fail, learn, foster studio culture, give themselves a place to play, and help gain attention from potential clients. If there is studio downtime, employees pull ideas (most often puns) out of a box and animate it. Animade has grown quite popular online as they share those animation collections on social channels. These small ideas sometimes morph into much larger aspects of client work, thus further funding additional studio projects.

One of my favorite studio projects is Party Pooper, a web experiment game where your character tries to poop the party.  It pushes the boundaries of SVG animation by utilizing Bodymovin' (you're welcome). NOTE: watch this video AFTER you play Party Pooper for yourself! 

Additionally, Animade showed off another studio project called Boords. They designed a system that makes creating storyboards quick and easy. They are now releasing it to the rest of the world.

Sander van Dijk
Sander co-founded Blend festival. He is a big talent with an even larger heart. Anyone that has ever crossed paths with Sander will know how genuine and passionate he is. His style utilizes simple geometric shapes, bold color, and wicked transitions. This type of thinking is great for companies trying to push a flexible branding ecosystem.

Sander has an extraordinary work philosophy – making a conscious choice on who to work with. After leaving his dream job at Buck, he began to work with companies that have a better vision for the world. The path to get there is simple, work with companies that inspire you. Creating this work helps companies you support gain traction and succeed. "Following your dreams will require a change in life, but if anyone can make a transition it's motion designers." Below is an interview with animation podcast, Animalators:

Along with this inspirational mindset, he has developed a unique workflow and released tools to empower others. For example, check out his Ray Dynamic Texture plugin which allows texturing shape layers with just a few clicks:

ILLO
Design studio Illo is run by power partners Ilenia Notarangelo and Luca Gonnelli. Their talk was broken up into 3 parts: Sharing a desk with your partner, sharing your desk with your team, and sharing your desk with a robot. Illo are as charming as they come. Frequently referencing their love for pizza, they discussed the challenges of working with your partner, the importance of valuing diversity (7 of 11 employees are women), and how they were able to create over 200 videos for The 2016 Rio Olympics–all while on vacation.
"Keyframes are overrated. Better use code." Among the design work they do, Illo created an algorithm named Algo they continually work with. Building this AI has allowed them to use real-time data to generate videos all within a few seconds. They have also utilized Algo for Italian soccer league Serie A and the S&P500 daily video recaps for Bloomberg.

Andrew Kramer
Andrew Kramer is the After Effects godfather. He is notably recognized for creating After Effects tutorials under the name Video Copilot. Anyone in the motion discipline can tell you they have learned from him. After many years of teaching us his secrets, he went on to develop plugins for the community and started creating visual effects for blockbuster titles such as Star Trek and Star Wars: The Force Awakens. Andrew talked about the challenges of working on massive projects while maintaining a healthy relationship with his family. "With today's software and hardware anyone can make some something – the real issue is actually having a good idea." Thanks for sharing your heartfelt story, Andrew. And now, another very exciting tutorial.

Tips & Tricks
Sprinkled throughout the conference were short 2 minute sessions of tips and tricks. Here are some amazing tips you can try in your workflow:
Sarah Beth Hulver: Masking a texture

Zak Tietjen: Parallax Rig (everyone at the conference let out an audible gasp after hearing Zak share his tip)
Vucko: A tip for writing on notes

Animalators: live at Blend Fest 2017 with Andrew Kramer, Patrick Osborne and Erica Gorochow:

_
List of speakers:
Host – Justin Cone of Motionographer
Andrew Kramer
Animade
Bee Grandinetti
Carson Ting
Erica Gorochow
Illo
John Black
Oddfellows
Patrick Osborne
Robert Valley
Sander Van Dijk
Tuna Bora
_
Thank you Blend!